After almost 25 years in the cocktail bar industry, owner of current number one, Satan's Whiskers, Kevin Armstrong, has perfected his craft to create a truly unique cocktail experience, but what else makes this bar so special?
What got you into cocktail bars?
My parents were publicans, so I grew up living in and around pubs. A couple of their friends gave me some cocktail books and I used all the bottles from the bar to make the recipes. I found it so interesting that I started working in a cocktail bar as soon as I was old enough, and that fascination with bars has stayed with me since.   
What do you enjoy most about your industry?
The bars and the people. A good bar filled with good people is a pretty captivating experience.
What does being the Top Cocktail Bar in the UK mean to you?
It is obviously hugely flattering to know that our peers have chosen us as the venue deserving top spot. Specifically, I like the idea that a small neighbourhood bar in Bethnal Green, one that is close to a decade old, can be and is still seen as relevant. There are some great operators on the list so it's a pleasure to be part of that company. 
What about your bar do you think makes you stand out?
I think what makes us stand out is that we don't stand out. We have no superstar bartenders, no high concept, no well-funded PR machine, and a building frontage that is hugely understated. What we do have is a team of serious professionals working very hard, on a daily basis, to produce some of London's most well-crafted cocktails.
Importantly for us, we do this in a way that we view as accessible and democratic. Bars are meant for drinking in, and it should not feel like a treat to drop into your local bar a few times a week. This approach to value and quality, and it not being out of reach, is a core belief of our business.
We also have a great Instagram account and a bar name that very few people forget.  
What do you think makes you number one?
Two of the key things that define our work are consistency and attention to detail.
We focus on all the things you would expect from a good bar; music, lighting, service, value, comfort, and of course we like making/creating great drinks, but for a decade we've obsessed over how to deliver these things for an entire 8-hour shift without any reduction in quality.
The bar area from which our bartenders work was designed specifically to allow us to facilitate this and as you'll note from our book on practical bartending, Roundbuilding, there's not a week that passes where we don't look at how we can do things better.
We've explored the processes that go into crafting great cocktails in detail, and we do our best to make sure we're always hitting the standards that we've set for ourselves.
What influences your menu/drinks?
When we opened in 2013, we figured we'd be heavily reliant on the local neighbourhood and surrounding areas to keep us in business. Bethnal Green at that stage had no reputation as a cocktail destination.
Amongst other things, making sure returning locals always had something new to try was one of the motivating factors for our daily changing menu.
It's also no secret that in our formative years, we spent extensive time working for/with some of the best people in the business and at some of the best bars in the business, and our love for classic cocktails meant there was only ever one direction we'd take when we opened Satan's Whiskers.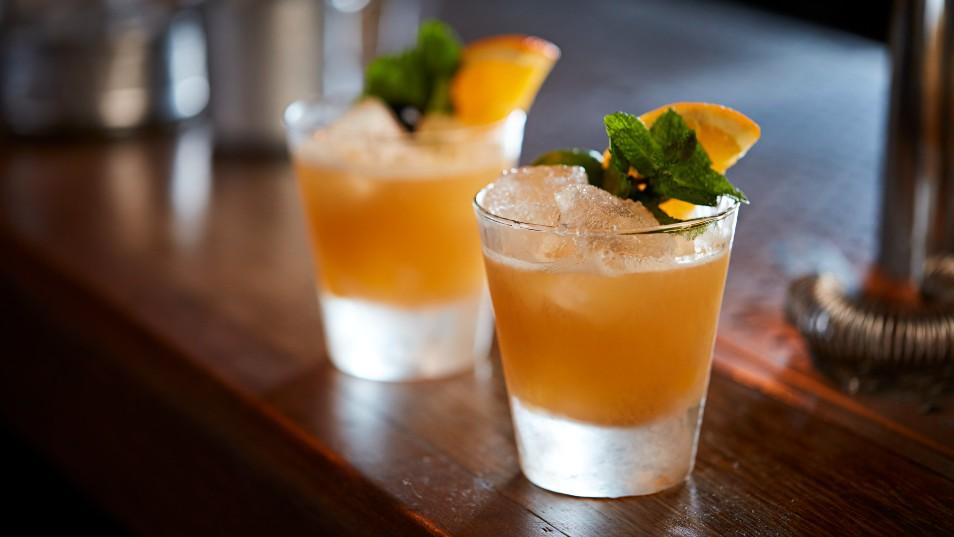 How would you describe your team (and how do they feed into the vibe)?
They are outstanding. Forgive the analogy but it is a little like assembling a football team; you need people with varying skill sets to deliver the right balance for the venue/team. Right now, we've got that balance just about perfect. Everyone knows and is comfortable with their roles and they are committed to the space, each other, and the product. To have the bartending talent and front of house expertise we do is quite special, and they absolutely make the space and experience what it is. 
What advice would you give to your younger self?
So many things have happened over the 25 years I've been in the business that it's hard to answer this briefly. Working hard is a given but staying open minded is even more important, so long as you apply a critical eye to the information you're receiving/consuming. Good advice and practices can come from just about any source and it's important not to stand still. Also be honest and respectful.
What do you think the future holds for cocktail bars?
I've been asked this question before, many times, and sadly you just never know what's going to happen until it happens. There are venues that I've been to and loved that have not made it beyond twelve months, and then there are spaces that I couldn't imagine working, or that I've just thought are no good, and they've gone on to be hugely popular and profitable.
It would be great to see more independent operators open venues, and for us to really garner and build on the culture that surrounds small bars (and restaurants), especially those that are product and value focussed. Whilst we have some of the very best bars in the UK, we don't yet have the kind of relaxed, late night drinking culture that can be found in parts of Europe and the US. It might require a different approach to how we license our venues but my hope is that we'll get there.